Celebrating 100 Years of Powered Flight
A Travel Report from Dr. Michael Offermann
Most people I talk to look somewhat puzzled when they ask me where I'm going for my holidays and I tell them "Oshkosh". When I mention the preferred type of accommodation – in a tent – one or the other clearly starts to think I'm pulling his leg and when I tell them that I'm flying myself there some of my contemporaries obviously think I'm losing my marbles.
Sometimes I reckon it would be better simply to draw a veil over this part of this summer's holiday.
100 years of powered flight since the Wright brothers leapt into the air in 1903 for the second motorised ride of a few hundred metres (interestingly and unknown to most, approximately three months after a German did the same in Berlin) and the 50th and 60th birthday of the cockpit.
What better reasons does a flying fanatic need to fly to Oshkosh, the Mecca of the flying world, on the shore of Lake Winnebago in the US State Wisconsin, north of Milwaukee in the year after the 50th birthday of the EAA Convention and to return as a Hadschi ("I was there!")? Particularly as getting there is everything? What could be nicer than flaying across the North Atlantic in the middle of summer?
The crews of the two Jetprops N46PW (Zeller/Offermann) and D-EMDB (Breitkreuz/Breitkreuz) had arranged to meet on 24th July, 2003 in Stornoway (EGPO) at about 12:00 local time to leave the continent.

24.7.2003
Leg 1: EDLE (Essen Mülheim) - EBLG (Liege/Lüttich), 140 NM, flying time 32 min.
08:15 local time we take off from Essen Mülheim heading East in the best possible weather. In contrast to what's happening on the ground, where the commuter traffic is already causing the jams I'm usually in on the roads into the city, above the clouds we have unlimited freedom. IFPS was co-operative with no slots, no diversions and no delays. A good thing too as our destination today is Sondrestomfjord in West Greenland so there's still some way to go.
First of all we head southwest towards Liège to get fuel. This place is highly recommendable to anyone who needs Jet A1 in view of the fuel prices of around just 45 cents a litre, landing fees of 11 Euro and turn-around times of usually just 35 minutes – top marks. In addition the take off over Brussels is very well connected to the routing in upper airspace towards England and Scotland so that it's not really out of the way.
Leg 2: EBLG (Liège) - EGPO (Stornoway, Hebrides), 680 NM, flying time exactly 3 hours.
800 ft broken, the actual in EGPO, approx. 10° C, and cumulus up to FL 80, with a bit of icing too, so de-icer on, including prop. and inlet heat.
Coming out of the clouds and without any warning part of the panel including the landing gear display suddenly goes black. So we go around, ask the tower to check our landing gear during the low approach before circling at 500 ft while we look for the problem. We soon find the cause – one of the two 80 amp fuses blew once before albeit in miserable weather while coming in to land in Essen while in neutral and simultaneously increasing the amp level to 130. An unpleasant occurrence that has been observed in other Jetprops. Everything back to normal during the second attempt after turning off the prop and inlet de-icer. Smooth landing. We come to a standstill next to the DB, which we have already heard over the radio.
Careful! EGPO is PPR, isn't always open and demands landing fees of around EUR 50. Jet A1 costs here approx. 33 British pence / litre. Otherwise friendly with short distances and block times of about 30 minutes, as well as the shortest connection to Reykjavik, (BIRK) over N61 W10, a routing that recently got complete radar monitoring and includes VHF coverage at flight levels over FL 240 so that earlier position reports for this leg now belong to the past.
It is on this leg that we get the Siemens Fujitsu Tablet PC out for the first time.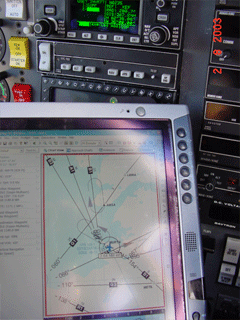 The previous evening the RAS (Rhineland Air Service) had sent us an enormous parcel containing the above mentioned futuristic laptop PCMCIA with wireless GPS connection und Jeppesen Flite/Star Flitemap, asking us to test the system under IFR conditions now that some 100 hours of experience under VFR test conditions had been amassed. We were more than interested to find out what the system could do and how easy it was to handle. Apart from the fact that we had drawn up our own flight plan using Jeppsen Flite Star, the set was completely new to us and we had no time to even look at the manual.
In short the Tablet PC is the crème de la crème for all those who do not have a moving map of a moving terrain standard on their panel, whether VFR or IFR.
However the sun might shine on the display, good readability is guaranteed by the intelligent display technology. One click on the corresponding icon for the GPS connection and within seconds the wireless link to the GPS aerial has been established on the dashboard. No interference with any built-in electronic equipment or even any lying on the floor between the seats. The best information in any flight situation.
To summarise: highly recommendable, all the more so as it can be used as a fully-functioning laptop using Windows XP, weighs less than 1.5 kg and easily recognises handwriting on the touch screen panel. A universal genius at home and in the cockpit.
This meant we were somewhat over equipped electronically: our King 90B that is unmatched in user-friendliness, features and reliability; the Moving Terrain with IFR and VFR software which we wouldn't want to be without when switching from IFR to VFR or vice versa since the fields can be displayed when necessary in ICAO norm; a laptop with US database; the Siemens Tablet PC with European database; a third somewhat old-fashioned laptop for updating the King which requires its own connection when loading the USA database in Greenland – unfortunately the new laptops only have USB connections. This isn't good when you consider that the crew of the DB could only update their Apollo while crossing the Atlantic after switching off their equipment and inserting the required memory card.
At least KingBendix in Oshkosh could give us an address where you can order a compatible interface which allows updates to be made using modern laptops.

Leg 3: EGPO - BIRK (Reykjavik): 600 NM, Flying time 2 hrs 31 min.
The former first compulsory registration point N61W10 now has a name: Ratsu. Anyone who now flies over Ratsu at a minimum FL 240 no longer has to make position reports as there is VHF coverage and radar monitoring.
The colourful roofs of Reykjavik are always a wonderful sight in the crystal clear air over Iceland.
For years now you see the same faces greeting you at the FBO. The service is always good, but the handling fees are rising drastically, currently at EUR 100 for planes under 2 to MTOW. Otherwise, all quiet on the western front.

Leg 4: BIRK - BGSF (Sondrestromfjord), 740 NM, Flying time 3 hrs 14 min.
It seems that we always hit the low pressure areas between our destinations. Great weather in any case over Greenland. We can see the first icebergs in the clear air 100 NM away from the coast. The eternal ice of the island lies glistening in the sun and you can't make out the horizon between the white clouds in the sky and the shining white snow on the ground. The approach to Kangerlussuaq as Sondrestromfjord is known officially, was as beautiful as it was interesting in the best VMC conditions in the fjord. We are coming to the conclusion that it would be better not to overshoot the localizer in IMC towards the west – the cliffs of the fjord make a threateningly solid impression and are rather near.
Very friendly Danes on the ground with quick tanking and moderate prices – Jet A! at 50 ct.
Our accommodation is in the "longest hotel in the world" – the Kangerlussuaq Hotel, right next to the airfield, rather like the Loftleidir in Reykjavik. The last room in the civilised world. You almost need a sandwich to make it there alive. Dinner is in a dining hall, a "restaurant" with a wine list and waiter etc. separated by a glass door. When you remember where BGSF is on the planet and that it is a village with about 500 inhabitants, all in all it was a pleasant evening. Heavenly peace at night, view of the railway, the glacier in sight.
As far as navigation is concerned, you cannot avoid having lots of bad experiences in this part of the world when you are travelling with electronic Jeppesen products. Under no circumstances is it possible to upgrade, for example, a Flite Map Europe Version. The only thing you can do is buy the Flite Star USA, deactivate and uninstall the Europe version, install the identical US program and then the USA database which requires at least an internet connection or a phone call to Frankfurt or the USA. Alternatively, you take two laptops with Europe on one and the USA on the other. Worst of all: the coverage of the European version stops east of Greenland in the middle of the Atlantic, while the American version begins 30° West, but there is no overlapping zone, so even if you have paid for two programs you are forced to fly at least half the way from BIRK to, e.g., BGSF using points which have to be entered manually with your co-ordinates. A bad state of affairs or a rip-off, if you have been persuaded to buy the worldwide version.
Remember the good old days with FS5 from Denmark, when all you had to do before a trip was call up the database subscription to get the upgrade sent to you free of charge?
We'll have to think about cancelling the already over-priced subscription offered by Jeppesen.

Friday, 25th July.
Leg 5: BGSF - CYFB (Iqaluit, formerly Frobisher Bay), 510 NM, flying time 2 hrs 22 min.
On the way to Iqaluit, formerly Frobisher Bay, we once again fly over the bad weather at 27,000 feet. FB unexpectedly turns out to be a rather busy airport, even in the morning: airlines, helicopters, Air Force, suppliers, GA all under one roof, buzzing around like a swarm of bees in the brilliant sunshine, demonstrating that Newfoundland definitely is not a lonely place in the middle of nowhere. We are greeted amicably by a Can Pass Immigration Officer, whose family, judging from the name, originally came from Germany. When asked he tells us how his grandfather emigrated from Weil am Rhein after the war. And to top it all, but not before we are nearly ready, it turns out he even speaks German, and not at all badly.
Thousands of nasty big mosquitoes descend upon us – and onto the bald head of the officer, too – attacking anything that moves, clouding the atmosphere, buzzing around like miniature spitfires and threatening to occupy our cockpit. Holger puts up a fine fight and launches a counter-attack with his MMIG46 cap. Refuelling, paying, flight plan, weather – everything OK. When the DB comes out, the fuel truck is ready, the flight plans have been taken care of.

Leg 6: CYFB - CYLG (LG4 La Grande Rivière 4), 798 NM, flying time 3 hrs 5 min.
To begin with a 580 NM GPS direct track passing all airways, then we have to divert for the first time due to bad weather. La Grande Rivière, our destination near to the south-eastern edge of Hudson Bay, is getting worse and worse. The two planes are flying about 10 minutes apart. A GPS NDB approach to minimum is agreed. If it doesn't work first time, we'll divert to LG4 as alternative. The Canadian Flight Service gives us excellent assistance and we are continually informed about weather conditions (in unmonitored air-space).
100 NM northeast of LG we have already undercut the minimum by 100 ft, so the decision isn't difficult: Divert to LG4, about 30 minutes away and the nearest place to the east of the storm zone with relatively good weather – a private airfield (as we discover after landing), but of course with two different instrument approaches. No problem at all, except perhaps for the (supposedly gravel) runway. Many, many stones on the ground so the inertial separator is on already to protect the turbine and allow for gentle braking with reverse. Nevertheless, the fins of the propellers have a few more scratches on them when we check later.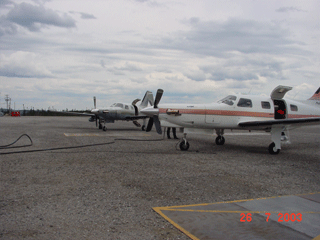 Refuelling is self-service of course. A pilot is just filling up his Bell, then it's our turn – the bill will be sent on later. We take off as carefully as we landed, send in our flight plan in the air, IFR clearance at approximately 9000 ft and off we go.

Leg 6: LG4 - KCIU (Chippewa Co Intl., or Ste. Stault Marie on the US American side), 640 NM, 3 hrs 12 min.
This leg is quite something. Not only the head winds of up to 40 knots or the unpleasant clear air turbulences, but also the squall-line-like chains of storm cells which stretch to flight area 260 get on our nerves. Luckily we find a gap between two built-ups through which we can pass without touching the edges of the areas. Just as we are through, our groundspeed increases to 30 knots, the air calms down and half an hour later we can see the ground again.
We had already informed the US Customs and Immigration that morning from Canada concerning our expected time of arrival in KCIU. That's always a good idea. In addition we kept in touch with these gentlemen from the air via satellite phone to keep them informed about our delay. If you don't tell them what you are doing, they immediately assume you are trying to enter the country illegally.
Once again our Iridium mobile phone proves its worth. How did we ever manage before? You might as well keep your 3-band cell phones turned off outside the lucrative urbanisations since huge areas of Canada and the USA are not covered by GSM roaming agreements.
Arrival time: 22:O3 UTC. A huge airfield, uncontrolled of course, nobody on Unicom, not a single plane far and wide in the air, but the customs officials are there already.
A cool, pokerfaced reception as always, but otherwise no problems. Somebody else with a German name, which – when referred to – leads to a relaxed conversation, especially as any mention of our destination KOSH opens all American hearts. But then there's a hitch during the clearance of the DB: the captain either has to go to prison or must fly back. Apparently the Inspector failed to remove the white docket from the immigration document in D.'s passport when he last left the country, so according to the computer he has now been there for more than a year and is now illegally in the country. Thankfully, after some time and more telephone calls reason wins: We might look somewhat bedraggled towards the end of our journey, but by no means like terrorists or illegal immigrants.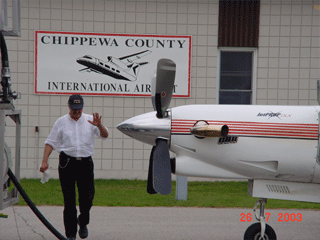 We want to continue, but then the message comes: NOT YET POSSIBLE – the agricultural clearance (AC) is missing!?!? When we enquire what that is we are told that an agricultural inspector (AI) has to clear the planes. This is new in this form, and anyway KCIU has only been approved for customs and not for the AC. This has been applied for, otherwise we would have had to divert to Detroit for the AC – on account of the rubbish.
The little AI, looking like Smörebröd, finally arrives with his Germanic name about 30 minutes late. We ask him about his name – bulls eye. We were lucky he was in the vicinity and available. After all, he was the only one in a radius of 300 miles and they took the AC very seriously.
The background: In the opinion of the Homeland Security Office, rubbish is incredibly dangerous, ranking immediately under smuggled plutonium. This is the reason for the strict controls throughout the country and currently there are hardly any airfields that can cover both immigration and AC.
Anything remotely to do with food, meat, sausage, hamburgers and especially the packaging must not fall on American ground, otherwise MCD (mad cow disease) threatens. All this has to be disposed of at a special refuse incineration plant in Detroit. The threat is everywhere.
What we were carrying? Only chocolate and plastic rubbish. That seemed safe enough, but the DB had a banana and several apples on board. The regulations demand that these be destroyed, but they don't say exactly how. On reflection he comes to the conclusion that his understanding was that it would be admissible if we ate them immediately.
(We learned later when staying at Goose Bay on our way back that we had had a lucky escape. The accompanying troupe of a fleet of Tornados on the way from Lechfeld to Las Vegas had to strip down to their underpants in spite of their NATO and Allied status. The crew of the Airbus Super Transporter from Airbus Industries coming to the show the next day also chose KCIU as airport of entry. It's a strange feeling, the crew told us, to land that huge plane at an uncontrolled airfield using IFR and Unicom Frequency, only to then have to search for the customs barracks.)
Once the garbage threat has been brought under control and dispensed with, the IFR flight plan is registered via telephone 1800 WX BRIEF for FL 180 to KOSH as an IFR Formation, of course, and then it's off to the planes.

Leg 7: KCIU - KOSH (Oshkosh, Witman Regional), 244 NM, Flying time 1 h 35 min., minimal power, a pleasure trip, so to speak.
The 6PW leads the way, does ATC and has the transponder on, DB follows, max. 1 NM, the way Milwaukee Control wants it, with TCAS and corresponding arrangements before any changes in course or altitude without any problems. Landing at 01:02 UTC, just after 20:00 local time and therefore before dark with 300 m interval. Welcome to Oshkosh from the Tower. Parking position on the campground and then first of all put up the tents.
Later reception in the DB's noble housing (our tent was not really suited to entertaining visitors, but rather to causing hilarity): champagne, not cooled, cheers. Oshkosh, we have arrived.
Next morning, Saturday, 26th July, 2003: blue skies, but where are the planes? Apart from a couple of hundred on the ground and a few in the air, hardly any traffic at all, no more than in Frankfurt really. How are they going to fill up the enormous parking areas? The reason – a huge storm front to the north and west of KOSH is preventing a number of planes from taking off and forcing them to postpone until Sunday. Everything's big in America – steaks, skyscrapers and the CB's too.
Quite a lot of activity in progress on the airfield, in particular the builders, who, with just three days to go before the opening, still haven't got a single stand up.
Our folding bicycles are proving useful here on the airfield – with runways of 6700 ft and 8000 ft - where we'll be living for the next few days.
Aching feet in the evening (at the DB), a huge steak in the local steakhouse helps, two ice-cold beers and we drop off easily.
Sunday, 27th July:
Two more days until the opening, clear blue skies with just a few clouds. Between 6:00 and 6:30 the showers and the numerous portable toilets are largely free. 20,000 campers will take their toll. But if you think the infrastructure was going to collapse under the pressure, you are mistaken. The various installations might remind one of the army, but the showers were always clean, hot and with plenty of water pressure, while the toilets always had enough toilet paper and never smelt. Hats off to the more than respectable achievement of the army of EAA Convention volunteers.
Breakfast from now on was "over the road" in the Hilton at $7.95 – not much more expensive than at the stands but a culinary alternative to the endless pancakes and sausages. In the meantime one plane after the other arrives via the Ripon/Fisk Arrival. We sit on our deckchairs right next to the 27, listen to 118.5 and laugh about both the controllers and the pilots. Like pearls on a necklace the planes from Fisk appear on the horizon and at a distance of 2 to 3 miles are individually addressed by the controller, who never stops talking. Something along the lines of "white Taildragger following a red Moony, rock your wings", cleared to land on the white dot" and cleared to land on the white or green dot or "on the numbers", i.e. on the edge. Some rock their wings so much, they are in danger of falling out of the sky, but they are praised by the controller: "Good rock, Sir!". There's no trouble, and even when the speeds of three simultaneously landing planes don't correspond, or the runway isn't clear, and it's necessary to pull up again, which doesn't happen often, no problem – everyone is congratulated on his cooperation and is welcomed. Everyone is helping to make things run smoothly. We were counting – just one out of 100 landings was somewhat unconventional, but even he was somehow helped down. Just don't break the safety record!
The busiest control tower in the world, where the best controllers in the States volunteer to work for 10 days and which controls a zone with more metal than you'd find at Washington National at 17:00 local time (5 years ago we found ourselves in a queue of 17, seventeen!, jets coming down at 180 knots) are masters the situation at all times.
By Tuesday, the day of the official opening, we have seen everything. We've ticked off all the points on our task list before the opening: BendixKing – interface driver for update; Jeppesen – complain about software update; Jetprop – technical questions; Sandel – compatibility questions; Becker America – Tablet PC presentation; etc. etc.
Luckily bicycles are still allowed (until the beginning of the show) and everything is accessible, even during the building phase. Everyone is friendly, approachable and in a good mood.
In the meantime we cycled over to Sea Plane Base along the main road about 10 miles away. The bay is set in landscape which couldn't be more idyllic, but with wind force 2 to 3 there wasn't much sea plane activity. One of the veterans there with endless stickers from the last quarter of a century on his experimental home-built and someone who had seen a thing or two at the annual EAA Sea Plane Section activities said he thought there wouldn't be a lot of traffic, the American boys certainly wouldn't turn up, perhaps a few fearless Canadians from the far north.
In contrast, the parking and camping areas have in the meantime more or less filled up. Planes and tents of all colours and sizes stretching as far as the eye can see. We are surrounded by two rows of double-engine planes, Aerocommander, Beach Queen Air, some piston engines and probably half of all the Cessna 310, 340 etc. ever built.
The Americans' tents are largely over-dimensional. The trend this year seems to be for three tents: one as a bedroom, one as a living room and the third as a sort of loggia with all-round view, in which one relaxes on couch-like seats while at the same time working the barbecue (or complete kitchen). The whole time the radio is on and each perfect landing is applauded. The number of Americans strolling by who don't understand why there's a German flag in front of our nose wheel and an American flag in front of the DB's nose wheel is legion. Even more roll their eyes when they hear that we've flown in from Europe. "From Germany? Gees, that must have been a long way".
Tuesday, 29th July, 2003
The first highlight: The Mooney's are coming. Not so much coming as descending upon us like locusts. An American in her 60's with a bit too much makeup cries delightedly "Tora, tora, tora!" when the dark dots appear in the sky. In contrast to Pearl Harbour, however, a rather harmless and annual event. The Mooney Americas get together and land in formation, this time 53 planes in about 10 minutes. Perfectly organised, approaching in line, landing simultaneously in fours on the parallel runways 36. The day before 70 Beech Bonanzas flew in in the same way. The group, of course, parks and camps together before the social and scientific part starts – barbecues and training take it in turns. Everything is organised by the club and partly sponsored by the industry.
15:30: Official opening.
Speeches by the officials, stand up, baseball caps off, nation anthem, hand on heart and then we really get going: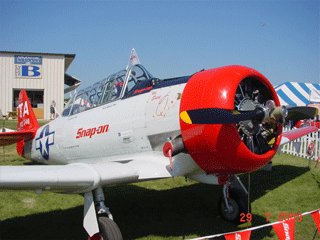 The opening display by the Warbirds from four wars and numerous countries, friends and (ex-)foes: World War I, World War II, Korea and Vietnam. Ultimately there are about 70 planes in the air at the same time in formations of tens and fours, flying in circles, over and under and between each other – quite unbelievable.
Next up is aerobatics at their best until about 18:00, again quite unbelievable. Things that make us dizzy just looking at them, techniques even we as pilots cannot recognise – which axis the plane is now spinning around.
One of the climaxes was "Master of Disaster", two double-deckers in an amazing amount of smoke, one of them with a jet engine attached under its fuselage (as we had noted when we landed) which they switched on during various demonstrations so that the airfield literally shook. By the time we'd registered where in the formation the jet was and where the din was coming from, the 10 minute demonstration was nearly over. The grand finale of the day: The landing of a U2, which older readers will recall from the shooting down of Gary Powers over the USSR in the 1950s. In fact he had had to leave his cruising or rather espionage flight level due to engine trouble which only then made it possible for the Russian ground to air missiles to reach him.
The first plane to take off from 27 after the demonstrations is Bill Gates' whispering Gulfstream V with the man himself on board. As is well known, he has invested an unnamed sum in the Eclipse Project of his former colleague and now Chief Developer / CEO.

Wednesday, 2nd August
Leg 9: KOSH - CYQB (Quebec ), 785 NM, Flying time 2 hrs 59 min.
We have decided to take our time flying back since we were able to take care of all the important things in the last few days. To keep things simple, we have planned to take off using instrument flying regulations. The leg takes us IFR to Quebec CYQB.
After studying the 20 or more sides of the NOTAMS in detail paying particular attention to IFR take off procedures (available on the internet), we get a departure slot one day before by automatic selection over the phone. We register the flight plan at the mobile FSS station on the airfield. Clearance is given immediately with squak just before taxiing onto the runway. Quick orientation to see where we are going from our camping position and then all we have to do is follow the flagging instructions of the so-called EAA flagmen (mostly young men from the National Guard) over the grass to Assembling Area 27 IFR Departure. All quite simple really.
Squak received, ready for immediate departure, nipped into a gap in the never-ending approaching traffic on the runway, cleared for take off, heading 300, climb 3000, contact Minneapolis, that was it, climb 70, 250, direct North Bay VOR, then 350 NM straight on.
On arrival we check into Frontenac, without doubt one of the best hotels in the world, but a bit OTT – not to everyone's taste. Much more important: For the first time in a week there's a really good dinner, European-style, or rather Parisian since parts of the upper town of Quebec have a distinct Parisian flair and are hardly distinguishable from the area around Sacré Coeur with its street artists, bars and houses.

Leg 10: CYQB - CYRR (Goose Bay, Labrador), 597 NM, Flying time 2 hrs 34 min.
Next morning at about 09:00 we take off for Goose Bay with a gentle tail wind and beautiful weather along the St Lorenz river. Recollections are awakened of flying over the Septes Iles, then on the way to Mexico with the Malibu that got its nose wheel stuck in the mud running down the wrong taxiway.
We refuel as always at Woodward Aviation as FBO. Nicole Powell, who has now been with Woodward for 5 years, is reason enough to fuel there. Flight plan on to Narsarsuaq and an unpleasant surprise: When we phone in for the actual a friendly Dane reminds us that landing stops at 18:45 UTC unless we want to pay EUR 1,200 as a fee for approaching outside ops hours. So that's not on.
So we take a shuttle to Hotel North which is new and in comparison to the other two a great improvement – really clean with moderate prices.
And what do we do with the afternoon? Frustration begins to spread. The owner lends us her car, free of charge of course, and we make an excursion into the wilderness, which starts just behind the sign for the Air Force Base. Just down to the river, at least one hour in each direction so time passes and we can head for the Deutsches Haus, the former Officers' Mess of the Luftwaffe stationed in Goose Bay. And surprise, surprise, after the unwanted forced stop, the evening turns out to be rather nice.
By coincidence a fleet of German Tornados from Lechfeld on the way to Las Vegas had to stop over in Goose on account of a technical problem with their accompanying tanker. A conversation gets going with two of the fleet's Majors and, following an invitation to a beer, we discuss the experiences of MMIG and Tornado pilots, including an invitation by MMIG46 to Lechfeld: MMIG meets Tornado.
4th August
Leg 11: CYRR - BGBW (Narsarsuaq) 676 NM, approx. 3 hrs 03 min.
Greenland's weather is in the meantime easily available:
http://194.177.231.198/opmet_userdes.php or http://www.iserit.greennet.gl.
We still have good weather with a gentle tail wind and CAVOK on the way to and in BGBW, so we decide to fly the NDB DME 1 procedure onto 20 under VMC in order to be well-prepared for possible future approaches to IMC.
Correct approach, no problem as expected, but the edges of the fjord are rather near on the left hand side during the holding. The man in the tower, always the same one, is as nice as he is dull, in life as on the radio. We get talking about the early airport closing time and I ask him (somewhat sympathetically) what he does in the evenings, expecting him to tell me about his boredom. Far from it. He goes home to recover from the day's stress. After all, some days as many as five or six ferry planes arrive in addition to the one or two commercial airliners on Greenland's domestic routes. I can't stop myself telling him how, when we took off from KOSH, about 12 to 13 thousand planes were parked on the ground. As might have been expected, his head started spinning.

Leg 12: BGBW - BIRK (Reykjavik), 700 NM, Flying time 3 hrs 05 min.
On to BIRK, for large stretches at only FL 190 as supposedly higher levels were full, although there was nothing visible on our TCAS. Finally, but not before N63 W30 we are allowed up to FL 230, which is something, and we arrive without any trouble in BIRK after about 2 hours and 45 minutes. Fine weather again, once the previous day's low has moved east.
Dinner in the famously excellent Skólabrú Restaurant, 562 4455, where a reserved table had become free due to no-show on Friday evening. More than just service, fantastic quality, but the prices? 23,265 Crowns (EUR 263,55) for four, including one bottle. Not quite clear how the Icelanders can afford these living costs.
The Loftleidir urgently needs renovating, for example in the breakfast area and in the reception with its rather unfriendly staff. What we were offered for breakfast at 7:00 local time was simply disgraceful.
Leg 13: BIRK - EGPF (Glasgow), 730 NM, Flugzeit 3 hrs 20 min.
We really wanted to leave at 06:00 UTC, but it wasn't possible. 07:00 at the earliest – due to noise pollution? Or doesn't BIRK allow night flying in the meantime? When we ask for permission to start at 07:05, we are told not before 08:00 UTC in spite of the exorbitant handling charges.
Then at 07:20 we suddenly get permission and off we go in a south-easterly direction towards Glasgow. The low pressure area we have to fly over extends to FL 250 so we fly in and out repeatedly and get well shaken. The DB, flying 5 NM ahead of us at FL 270, has got it better: continual sunshine at 27,000 ft.
Hardly have we landed after 3 hrs 20 min than the tiresome stress with European IFPS starts again. The handling agent cannot be recommended – £60 for a 100 m bus ride, a cup of tea and several flight plan suggestions to Düsseldorf which are repeatedly rejected by IFPS so that an hour goes by without anything happening. When I enquire about maps for making preparations I am presented with route maps from December 2000 for lower airspace, of course. They had told their boss about this several times.
So we got out the laptop again and quickly had a routing to DUS worked out: 10 minutes later the clearance is there too.
Leg 14: EGPF - EDLE (Essen-Mülheim), 625 NM, Flying time 2 hrs 01 min.
On the last leg the weather god is once again merciful: 40 knots wind from behind, and so 300 knots groundspeed. Up to Amsterdam everything runs very smoothly (uncontrolled IFR with advisory service, rather unusual) and then, amazingly, ISFP surprises us with a direct to BOT from Pampus. Finally with more unbeatable weather VFR to EDLE and a champagne reception with family and friends in scorching heat.
To sum up:
After 9,000 NM and 33 hours of flying: well worth repeating.
The particular security situation in the USA and the corresponding requirements and restrictions are known about, but in practise hardly noticeable. Generally speaking, Canada and the USA can still be regarded as the countries with the greatest aviation freedom and the highest estimation of GA. Oshkosh was the best proof of that.
For anyone who is used to flying seriously on IFR and anyone who on top of that has taken the specific rules of the North Atlantic to heart, the statistical risk (presupposing a suitable aircraft) on such a trip is no higher than from Düsseldorf to Elba, but the experience is quite another. The only thing is, you must not allow yourself to become a slave to your schedule when flying the legs. What is important when planning the flights is the lack of alternates after long stretches over water in connection with instrumental approaches in demanding terrain, nothing else.
Last but not least there was the throbbing of a little piston engine that woke us up one morning in Goose at about 04:00 local time. That evening a little PA 28 came down an hour after us in BIRK. The pilot told us he was on the ferry flight from the Piper Works to Prague.
We had in fact heard him on the radio about 35 W, i.e. east of BGBW, asking about the weather in Kulusuk (best VFR conditions) and assumed he wanted to refuel there.
Now he tells us how he had flown on for somewhat more than 12 hours at FL 60, at times with considerable head winds. Towards the end he had "occasionally felt a little uneasy".
The endurance: practically 13 hours. No comment.