Aircraft window breaks – Emergency landing in Bozen

by Wilhelm Schröer
Udo Illig's return flight home from Venice to Schwäbisch Hall ended unexpectedly on Friday morning with an emergency landing in Bozen after one of the windows of his Piper PA46 plane broke at six thousand metres.
"At 18,000 feet the window on my side of the aircraft suddenly broke and I was sitting in the open air," the pilot told Südtirol Online. Illig immediately requested permission to make an emergency landing at Bozen Airport, where preparations were immediately instigated.
"It was minus 20° C at that altitude. That is really cold, extremely loud and you can hardly talk. I was just pleased that there was an airport in the vicinity", said the pilot describing the situation. In his opinion the breakage was probably due to a fault in the manufacturer's material.
The pilot and his passenger were not hurt. The Bozen Fire Brigade were at the scene. The cause of the break in the window has yet to be established.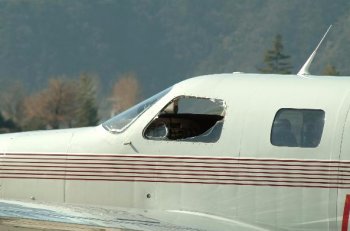 Source: Südtirol Online-Nachrichten