Weihnachten rückt immer näher
Wenn Sie noch nicht wissen, was Sie sich wünschen sollen, dann haben wir vielleicht einen interessanten Vorschlag für Sie
MAXIMA Propjet Conversion for the Malibu and Mirage
At the 2004 MMOPA Convention in Palm Springs, we introduced the new MAXIMA Propjet for the Piper Malibu and Mirage aircraft.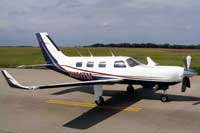 The new MAXIMA -10 Propjet features the legendary Garrett Dash 10 (TPE331-10) turboprop engine. With over 1,00 shp of thermodynamic power, the Dash 10 makes the MAXIMA -10 the most powerful conversion for the Malibu or Mirage! This means higher performance than other turboprop conversions or the Piper Meridian. In addition, with a specific fuel consumption (SFC) of 0.56 lb/hp/hr, the Dash 10 is the most fuel efficient of all turboprops in its class. This combination of power and efficiency provides faster climb rates, faster cruise speeds and longer range.
In addition to the powerful Garrett Dash 10 benefits, the MAXIMA also offers other features of note:
162 gallon Fuel Capacity - provides longer range

No-TouchTM Optimized Fuel System - draws fuel from both tanks simultaneously and eliminates the fuel selector valve

Electric Air Conditioning - provides on the ground cooling with GPU

Engine Fire Extinguisher - for additional safety

Relocated GPU Plug - relocated to rear of passenger door for easy access by line personnel

Bleed Air Eductor Primary Vacuum System - has no moving parts and is extremely reliable

Electric Horizon - standby system in unlikely event of eductor failure

Cool-Start System - for faster and lower temperature engine starts

Built-in Lightning Protection in Carbon Fiber Composite Cowling

Reduced Soot Exhaust System - prevents sooting on sides and wings of aircraft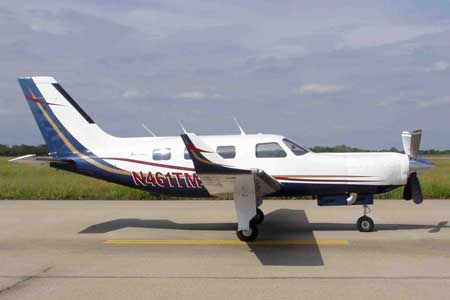 In addition to the Garrett Dash 10 engine, the MAXIMA is also offered with a Garrett TPE331-5 engine option. The Dash 5 engine produces over 840 shp of thermodynamic power which will provide performance similar to the original Malibu conversions which used the PT6A-34
With the STC expected in the Spring of 2005, we offered very special introductory prices at the MMOPA Convention. This pricing was $50,000 below what the prices will be once the STC issues. Guaranteed to outperform any other turboprop conversion, the MAXIMA -10 was offered for an incredibly low price of $399,000 with a 5,000 hr TBO / 0-TSOH engine. The lower cost Dash 5 conversion was offered at an MMOPA special price of an $335,000 - also with a 5,000 hr TBO / 0-TSOH engine.
We realized that many owners were not able to attend the MMOPA convention and thus were not aware of this exciting new conversion nor the special offers. Therefore, we have decided to extend this special offer to allow all MMOPA members to have this opportunity. Owners who make deposits by November 10th (one month following the convention) will still receive the MMOPA special prices. After that time, the prices will go up to the Pre-STC prices which are $25,000+ more. A $10,000 deposit will hold a delivery position and guarantees the MMOPA pricing.
We also realize that with a major decision like this, owners like time to consider all options. We are so sure that owners will find the MAXIMA -10 (or - 5) to be their ideal aircraft, that we have provided for depositors to have 30 days following the deposit to cancel for any reason and receive a full refund of the deposit. This allows owners to lock in the special pricing, yet still have the additional time to make sure that is the right decision for them. The MAXIMA will be available for both the Malibu and Mirage airframes.
A two page MAXIMA brochure and price list accompanies this letter.
(
Maxima Cover
,
Maxima Features
,
Maxima Price List
)
Please contact us to receive further information or to discuss this exciting conversion in greater detail.
Thank you.
Michael Spearman
mspearman@porous.com
INNOVA AIRCRAFT, INC.
4301 Davis Hwy.
Conroe, TX 77304
936-443-4912